It all began with my Grandma. I went to visit her, in Hawaii the year before law school. She'd made a lunch of American cheese on white bread for her hapa granddaughter and I'd brought home a freshly grilled mackerel from the Japanese grocery. We had a good laugh and when she realized I loved Japanese food and flavors she asked me if I'd ever had sushi.
At that point, I really hadn't -- save for a late night party in restaurant after closing hours. A female chef told me hilarious stories of trying to learn how to make this new thing called sushi from Japanese sushi chefs she could not understand. She'd carefully dropped each nigiri rice bed into a pot of water because she misunderstood their accent thinking the master had said "put them in water". What he had actually said was to put them "in order" (which, in a Japanese accent would sound nearly like "in water").
Sushi eating, much less making well, it was all so mysterious back then. Sushi bars were not yet fixtures in every city, every grocery store. It's possible the story was a little funnier because of the after-hours drinks but ... suffice to say I didn't really feel like I knew my way around a sushi menu from that drunken walk-in cooler introduction.
Grandma took me to a local hotel sushi bar that happened to have an early bird special on sushi. I think it was some ridiculously good price for all you could eat sushi between certain hours. The sushi bar was tucked into an alley, between hotels and had all of five or so seats. In a city like Honolulu that caters to tourists, this was clearly a local hidden gem.
Grandma ordered a few pieces tentatively and watched for my reaction. I guess she thought if Ididn't care for it, it was not a waste of a ton of money. Then she ordered more, and more. She was so happy to see me enjoy it, and kind of in disbelief. She taught me to eat it with o-hashi/chopsticks. (I never told her what the Japanese businessman next to us explained to me: "In Tokyo we eat sushi with fingers." He implied that because she was from Hokkaido, she didn't know any better.)
She was delighted to watch as I ate my fill of this new treat. This was a fantastic visit and the only time she and I had had together, just the two of us. I will always remember how much I learned about her, and from her, during that week. We shared a love of travel and I admired her work part-time at a newspaper where the young staff valued her knowledge of kanji enabling her to typeset the printing plates with more accurate and nuanced vocabulary they did not possess.
Before my arrival, she had saved some money to buy me a gift. She explained that she was afraid she didn't know me well enough to be confident she could buy me an appropriate gift. It had been years since we'd lived near each other in Hawaii, after all. The distance between 8 years old (when she brought me my first camera) or even 12 years old (when we left Hawaii) and law school, was great. I expected no gift but her company and the time with her so I was surprised when she gave me some money, explaining I was to buy something that I wanted.
I'd noticed a small jewelers near the Japanese grocery where I picked that mackerel off the broiler/conveyer belt, still warm under its plastic. Something in the jewelry store window caught my eye. It seemed to me something solid would be a good way to mark this special week. I wanted to be able to look back and remember it with something tangible. I picked out a gold ring, easily the most valuable and extravagant thing I'd ever owned at that point. I thought about touching it in the future and remembering my grandmother and the special week we'd had - just the two of us - before I lost myself in law school, in practice, in life.
When I showed her my purchase and thanked her for it, she did the über-Japanese thing, a small polite smile and a nod. "Grandma, do you like it?" "If it pleases you, then I'm happy." Well it does please me, though I don't wear gold that often anymore, I do wear it to remember her and to mark special occasions.
Getting to the Sushi Secrets Part of the Story....
As I became more immersed in Japanese food, and learned more about sustainable seafood issues, I developed a different sort of relationship with sushi. When  Marisa Baggett asked me to provide a quote for her upcoming Sushi Secrets book, I was honored to do so. It was during this same trip to my grandmother's that I met Marisa's publisher Mr.Tuttle himself who would ultimately publish Marisa's book. Curious, yes? Here's his nephew who shared a snorkeling trip to Hanauma Bay with me, with Mr. and Mrs. Tuttle on the left. (She is from Hokkaido, just like my grandmother was!) They were very kind to me, inviting me to their hotel for an afternoon drink.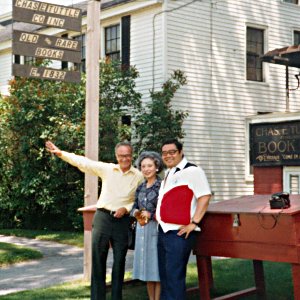 Sustainable seafood and sushi are two passions Marisa and I share, in this book she skillfully combines them both. If you are aware of the growing scarcity of  many species of fish, you may be inclined to forego sushi. Outside of a handful of Eco-conscious restaurants like Tataki and Miya's, you'd be hard pressed to find sustainability on the menu at most sushi bars you'll find. You can learn to make wise choices with the help of pocket guides and smart phone apps, but once you open your eyes to the depletion of our oceans, it's tougher to enjoy any old sushi joint.
You can also learn to make sushi at home. If you don't think you can do it, I'm here to convince you otherwise. Marisa's book is a perfect guide. Just take a look at these kids making sushi in this video.
The Spam + Friends part of the story...
When I got the chance to assist Chef Nathan Fong at the British Columbia Sustainable Seafood booth at the International Boston Seafood Show, I quickly said yes. Of course we didn't have any spam on the menu there, but do feast your eyes on some of the phenomenal food we put out for the show. My job was to shop, prep, assist, clean, etc. and I had friends who helped me schlep the groceries, lent me their carts, a bin, and so on. After the show was over, I wanted to thank my friends with a "Gokurosama Sushi Secrets" dinner.
Gokurosama is the Japanese way of thanking someone for their effort.
On the menu for our Gokurosama Dinner:
Stir fry of sablefish with onion, black bean chili garlic sauce, cilantro
Cucumber radish salad
Gungkan Maki - uni
Gunkan Maki - ikura
Nigiri - tuna
Nigiri - tamago
Spam Musubi
Kappa Maki
Ume Shiso Maki
Negi - Avocado Maki
Takuan Maki
A funny thing happened while I was planning this dinner. A new couple moved in next door. I ran into them and invited them to come meet their neighbors and have some sushi, warning them that it was a bit of a crazy menu and crazier crew.
And that Band of Gold...
Turns out Cody and Carlos were engaged and we all fell in love with them. Cody had some hidden sushi ninja skills and brought the star power that only a former child TV star can bring. She also brought a charming Bolivian, now her husband, and a bottle of Prosecco. We were smitten. We made sushi together, using Marisa's excellent book.
Here's Cody showing two Chinese girls, Lisa and Jesse, how to make rice for sushi - in the microwave. That's Carlos on the left checking out the recipe.
Here's our disappearing Spam Musubi. Cody's hidden talent, at least one of them, is making these.
Secrets Shared - One Ring Lost, Two Blessed
In just a few short months, we've become so close and shared (some might say overshared) so much. We even got invited to their wedding. I'll not steal their thunder but I will share one little secret. I wore my gold ring, purchased to commemorate my special week with Grandma, to this weekend wedding in the Berkshires. And promptly lost it.
I searched everywhere and could not find it. I kept it to myself, sharing the secret only with Doc, in case it might feel like a bad omen or something. I thought about my Grandma and that week and focused on the important things: one, the memory and not the ring is what's important; two, there was the most uplifting wedding going on where gold rings were being exchanged to signify Cody and Carlos' commitment. This was a joyous weekend and the only tears were happy tears. On checking out, I quietly left a request to the staff that if the ring should turn up, it be returned to me. I was pretty certain it was gone.
And during this weekend I had hoped to actually write about this first night we met Cody and Carlos over Sushi Secrets. I thought it would be a fun post for folks to see just after the wedding.
But it wasn't happening. There were drinks, and laughs, and friends. There were tears of joy, new friends, and more laughter. And there was this gorgeous wedding between two really sweet new friends going down. So the post, I decided, could wait. And in a moment in a hammock with my (city boy) husband, I remarked how things that seemed urgent before, suddenly felt less so now. Being in the moment is a lesson I seem to need to learn over and over again.
Cody and Carlos did exchange their rings, after a lovely "ring warming" where the rings are passed from guest to guest, during the ceremony imbuing them with all our best wishes for a lifetime of joy.
I was sad about the ring I lost, but so very happy for these wonderful people and their marriage, that the sting of my loss was diminished. Such is the power of love.
Back to Secrets of the Edible Kind
Sushi is not a meal you would typically make at home, especially in the U.S. where we have a penchant for quick "3o minute meals" and we're mad for shortcuts. These notions are the opposite of how the Japanese approach, well, almost ANYTHING. However, Marisa does a great job of laying out step-by-step instructions, photos and recipes making the job of rolling or pressing sushi eminently doable.
As with any cooking, it pays to plan ahead and think about what you'll be preparing. In this case, I was celebrating my friends and showcasing fantastic seafood from British Columbia. So I had some prep to do: Dashi, tempura sauce, sweetened soy and spicy mayo, as well as rice soaking/steaming. All recipes are clearly laid out in simple instructions, and many have step-by-step pictures.
My plan was to have drinks, introduce the concept of the evening, and introduce friends to each other while we nibbled a bit of the sablefish stir-fry. Then, I figured we would not be starving and could begin trying our hand at making sushi, following the various recipes. We began with Spam Musubi partly because it was a quick one to put together. There's also nothing like sharing something as retro as Spam to break the ice.
I had the table set with Lisa's special sushi plates, dipping sauce dishes, new fancy chopsticks for everyone to take home, and of course, drinks!
We prepped and cooked, and rolled, and pressed.
Ikura, uni "gunkan" or battleship style sushi. Tamago in front, garnished with Northern Divine Caviar.
ume, shiso, kapa, takuan, negi, mushrooms all got rolled into ....
tuna, avocado, nori and my crazily tabbed book.
Full Circle - Rings and their Significance
I never planned on being married, myself. So I never had a fantasy about "the ring." Caleb changed that and showed me, shows me every day actually, the value of the commitment it symbolizes. Cody showed me her ring and how proud she is to have incorporated design elements from her beloved Mother's ring into her own. We held their rings and wished good things for them and were buoyed by the love that swirled around us all weekend.
We're so happy to have such great neighbors we can count as friends, like family really. We've already shared so much including this first raucous sushi feast.
As we unpacked from the weekend wedding and began to plan our week ahead and to think about the work to be completed Sunday night, I found in my suitcase the ring I was so sure I'd lost!
This whole story, my sushi discovery, meeting Mr. Tuttle, choosing a ring to mark my time with Grandma, developing an awareness of and appreciation for sustainable seafood, gaining such solid friends and sharing their wedding with them, losing and then ultimately finding my ring...rediscovering how joy supplants sadness...it all creates a perfect circle. I tend to learn in rather deliberate if not dramatic ways, don't you think?
My Grandma's presence is certainly here in this story.
So here's what I've learned from its unfolding:
Life can bring you friends and connections that might take years to mature, as with my Tuttle connection; or in the case of our friendships here, they might deepen very quickly. Joy shared openly can diminish loss. People who matter are with us in our hearts even if no tangible thing remains to remind us.
As always, there is joy in sharing a meal with friends and with some attention to what we eat, we can revel in food even while being mindful of our impact on the planet. With some thoughtful care for friends and partners, we can and will share many more meals together.
With Baggett's Sushi Secrets they might even be homemade, sustainable sushi.
Congratulations to Cody & Carlos on their marriage.
Congratulations to Marisa Baggett on this beautiful book.
May we all eat well and remember the words we Japanese say before consuming our meal: "Itadakimasu" which is to humbly receive the lives given so that we may eat. A fitting pause before a sushi meal.